Main Content
Start reading instantly in your browser with OverDrive Read
With OverDrive Read, you can read eBooks right in your browser with a single click—no software or downloads required.
OverDrive Read is a browser-based eBook reader that works on most computers, tablets, and mobile devices running up-to-date web browsers. OverDrive Read is available for most eBooks from your digital library.
How to use OverDrive Read
Once you borrow a book, click or tap the Read button from your Checkouts.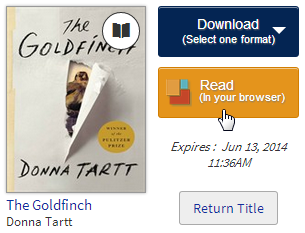 Notes, highlights, and other features
OverDrive Read lets you add bookmarks, search for terms, add notes and highlights, look up word definitions, change the font size and style, and more.
As long as you have an active internet connection, you can return to the eBook at any time during your loan and your place, bookmarks, notes, and highlights will be saved.
Read offline
On most devices, you can select the cloud icon in the OverDrive Read menu to cache (download) an eBook so you can read it offline. Make sure to also bookmark the eBook in your browser or save the eBook's URL so you can get back to it in your browser once you're offline.

Learn more and see samples at http://readinfo.overdrive.com.